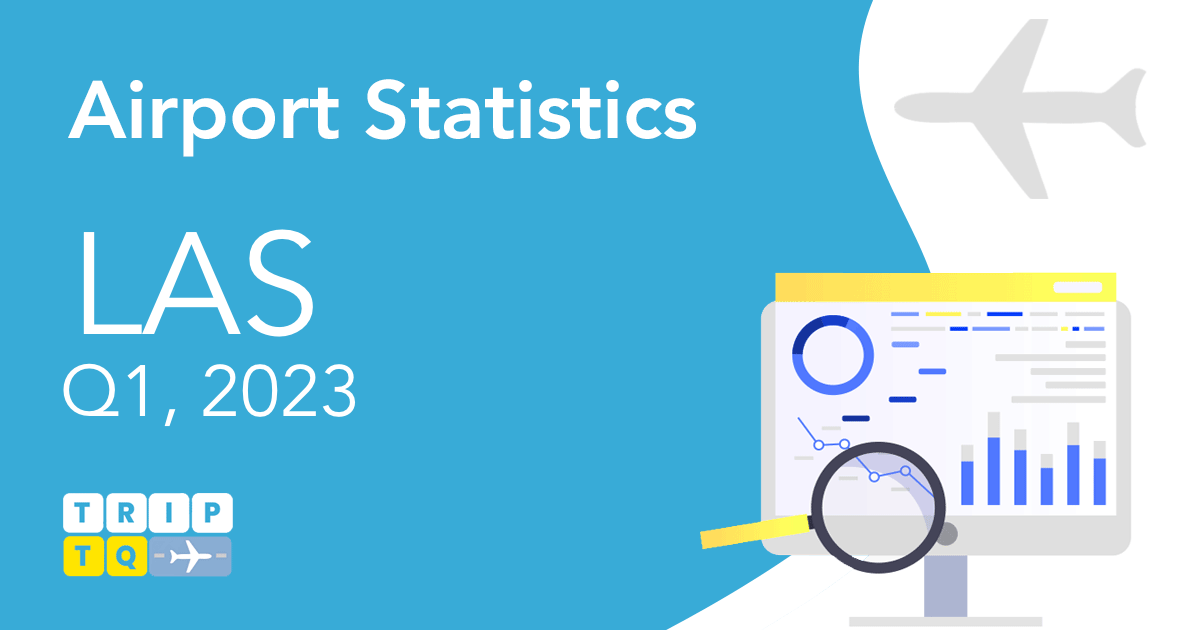 Q1 Passenger Number Record set at McCarran Airport – Up 26% on Last Year and 14% Pre-Pandemic
Q1 Passenger Number Record set at McCarran Airport – Up 26% on Last Year and 14% Pre-Pandemic. These significant figures underscore the airport's successful rebound and highlight its ability to regain momentum, surpassing both the previous year's figures and pre-pandemic levels.
McCarran International Airport, located in Las Vegas, Nevada, is one of the busiest airports in the United States. Named after former Nevada Senator Pat McCarran, it serves as a major gateway to the vibrant city of Las Vegas and its surrounding regions. The airport has experienced tremendous growth, handling millions of passengers annually.
It currently operates both domestic and international flights. The airport boasts an impressive range of amenities and facilities, ensuring passengers a convenient and enjoyable travel experience. Designed with modern architecture and state-of-the-art facilities, the facility offers a seamless international travel experience.
It includes customs and immigration services, duty-free shops, and dining options. McCarran Airport prides itself on its commitment to customer service and efficiency. Various self-service kiosks and automated systems are available throughout the terminals to streamline the check-in process.
Comparing Quarter 1 (Q1) Passenger Statistics at McCarran Airport
From this analysis, it can be concluded that McCarran Airport has experienced fluctuations in passenger traffic due to the COVID-19 pandemic.
However, there has been a significant recovery since the lowest point in Q1 2021, with passenger numbers gradually increasing. The growth observed in Q1 2023 indicates a positive trend towards pre-pandemic levels.
In Q1 2019, there were 5,654,261 passengers; this was the baseline year for comparison. And in Q1 2020, there were 4,854,191 passengers, a decrease of approximately 14.15% compared to Q1 2019. This decline could be attributed to the onset of the COVID-19 pandemic, which caused significant disruptions to air travel worldwide.
For Q1 2021, that's a total of 2,692,735 passengers. This represents a substantial drop of about 44.53% compared to Q1 2020. The global pandemic peaked, leading to travel restrictions, lockdowns, and reduced passenger demand.
Q1 2022 had 5,150,050 passengers, a significant increase of approximately 91.26% compared to Q1 2021. This surge can be mainly attributed to the easing of travel restrictions and the gradual recovery of the aviation industry as vaccination efforts increased and COVID-19 cases started to decline.
In Q1 2023, it recorded 6,470,493 passengers. This demonstrates further growth of about 25.64% compared to Q1 2022. The positive trend continues, likely influenced by ongoing vaccination campaigns, improved safety measures, and increased traveler confidence.
The Difference between Q1 (2019) and Q1 (2023) is calculated to be 14.44%. This indicates an overall growth in passenger numbers over the four years, despite the disruptions caused by the pandemic.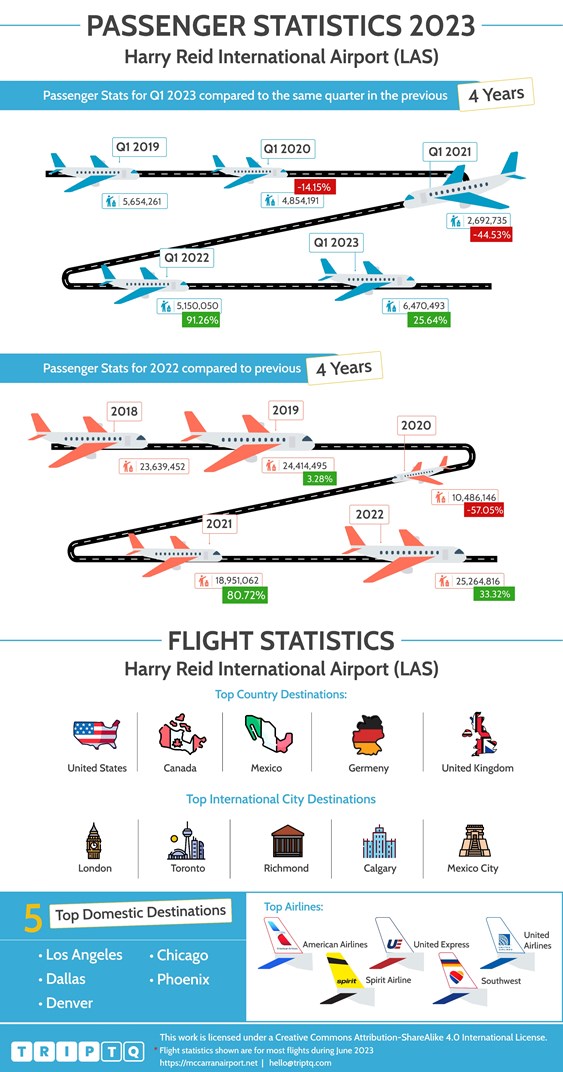 This work is licensed under a
Creative Commons Attribution 4.0 International License
.
View Full Size
McCarran Airport Passenger Trends for 2022 and the Past 4 Years
Despite the challenges faced in 2020, McCarran Airport has shown resilience and a strong rebound in passenger traffic in recent years. In 2019, there was an increase in passenger traffic, with a total of 24,414,495 passengers, representing a 3.28% growth compared to the previous year.
In 2020, the airport saw a significant decline in passenger numbers due to the COVID-19 pandemic, with only 10,486,146 passengers recorded. This marked a decrease of 57.05% compared to 2019.
As travel restrictions started to ease and the industry began its recovery, 2021 witnessed a substantial rebound in passenger activity. The airport served 18,951,062 passengers, representing an impressive 80.72% increase from the previous year.
In 2022, McCarran Airport experienced further growth with 25,264,816 passengers, representing a 33.32% increase compared to 2021. These figures demonstrate the impact of external factors, such as the global pandemic and the subsequent recovery of the aviation industry.
Analysis of Flight Statistics and Trends for July 2023
McCarran Airport in July 2023 observed considerable passenger traffic, connecting Las Vegas with prominent locations. The airport served a diverse range of destinations, both domestically and internationally.
The top country destinations from McCarran Airport were the United States, Canada, Mexico, the United Kingdom, and Germany. These countries attract many passengers for various reasons, including tourism, business, and personal travel.
Among the international destinations, the most popular ones were Toronto, Mexico City, Calgary, Richmond, and London. These cities saw many passengers flying in and out of McCarran Airport, indicating strong connections and demand between Las Vegas and these locations.
For domestic travel, the top destinations from McCarran Airport were Los Angeles, Dallas, Denver, Chicago, and Phoenix. These cities are major hubs or popular tourist destinations, showcasing the airport's diverse range of traveler interests.
McCarran Airport facilitated flights by several top airlines during this period. Southwest Airlines, known for its extensive domestic network, was one of the leading carriers operating at the airport. Spirit Airlines, Delta Air Lines, American Airlines, and United Airlines also served passengers from Las Vegas to various destinations.
Analyzing Passenger Trends: Quarter-to-Quarter Comparison
According to the provided passenger statistics data for McCarran Airport, in Q1 2019, the hub had a total of 5,654,261 passengers. In Q1 2023, it rose to 6,470,493 passengers. The difference between Q1 2019 and Q1 2023 is an increase of 14.44%.
Q1 2023 holds the highest number of passengers in a single quarter at McCarran Airport, surpassing the previous record set in Q1 2019.
The difference between Q1 2019 and the latest quarter (Q1 2023) is 14.44%. 2. Q1 2023, the highest quarter of all time, had 6,470,493 passengers.
The difference between the highest quarter (Q1 2019) and the latest quarter (Q1 2023) is 14.44%. Q1 2021, the lowest previous quarter, had 2,692,735 passengers.
The difference between Q1 2021 and the latest quarter (Q1 2023) is an increase of 140.29%. Q1 2021, the lowest matching quarter to Q1 2023, had 2,692,735 passengers.
The difference between the lowest matching quarter (Q1 2021) and the latest quarter (Q1 2023) is an increase of 140.29%. These figures highlight the growth in passenger traffic at McCarran Airport over the years, with Q1 2023 showing a significant increase compared to the highest and lowest previous quarters.
Are you a travel publisher and would like this information for your site/blog/publication?
Contact us on this form to request McCarran Airport Statistics (Statistics, data and infographics are available for a wide range of airports worldwide - please tell us your requirements using the form)
UNBEATABLE VALUE CAR RENTAL

FREE
Amendments,
FREE
Cancellations,
NO
card fees!

airport_shuttle Need Airport Transfers?
Useful Information about McCarran Airport